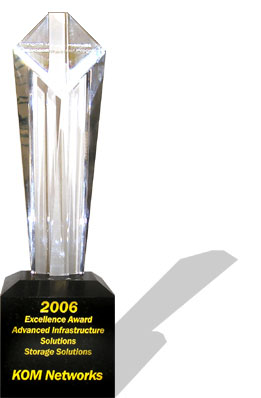 KOM Software Wins Storage Solutions Excellence Award
Ottawa, ON Canada – September 13, 2006
KOM Software, Inc., a global leader of storage management and archiving software solutions, is proud to have won the 2006 Microsoft Partner Program Storage Solutions Excellence Award in Advanced Infrastructure Solutions. The awards were distributed during a ceremony at the Microsoft Worldwide Partner Conference in Boston, MA.
"We are thrilled to join the group of companies that have been recognized by Microsoft for their expertise, technology and commitment to customers. It's a true reflection of what happens when you focus on solving customer problems," said Dr. Taher Shaath, Chief Executive Officer at KOM Software. "With Microsoft technologies and Partner Support, we have worked hard to create a strong foundation for enabling customers to more easily manage and achieve compliance across the enterprise."
Awards were presented in a number of categories, with winners chosen from a pool of more than 1,800 entrants worldwide. The Microsoft Storage Solutions Excellence Award in Advanced Infrastructure Solutions is given to the global independent software vendor partner that has demonstrated outstanding leadership and is the most valuable global enterprise and medium business partner in delivering Microsoft storage solutions to our mutual enterprise customers in the past year. KOM Software won this award by developing solutions that simplify the deployment and adoption of Microsoft Windows Storage Server 2003 R2 to satisfy the growing compliance needs to achieve and manage archiving requirements across the enterprise.
"Customers want a broad choice of Microsoft Windows-based storage technologies, and combining the powerful features of Microsoft Windows Storage Server 2003 R2 with KOM Software e-WORM technology provides a Windows-based hard disk archiving solution that simplifies compliance processes," said Dr. Claude Lorenson, group product manager, Storage Technologies at Microsoft Corp.
Compliance issues are affecting customers' business and KOM Software is addressing their needs by developing Hard Disk Archiving technology (e-WORM) based on Microsoft Windows platforms to help them respond to their archiving and compliance requirements. KOM Software KOMworx archiving products are enabling thousands of organizations around the world to secure their digital assets and comply with both corporate governance guidelines and government regulatory requirements.
"We are honored to congratulate KOM Software as one of our Specialization Excellence Award winners," said Allison Watson, vice president of the Worldwide Partner Sales and Marketing Group at Microsoft. "Its achievements this year have helped raise the standard for delivery of customer solutions and support, and we thank KOM Software for choosing to build on Microsoft technologies."
The Microsoft Partner Program Awards recognize Microsoft Partners that have developed and delivered exceptional Microsoft-based solutions over the last year. Multiple awards were distributed in each of three categories: Partner of the Year for Technology Innovation, Partner of the Year for Sales and Marketing, and 2006 Excellence Awards.
KOM Software is a Microsoft Gold Certified Partner. For more information on KOM Software products and solutions, go to www.KOMnetworks.com.
---
About KOM Software
KOM Software is a world leading provider of flexible, secure data archiving and storage management software. Over 10,000 of the world's leading corporations have recognized KOM Software as the most logical, unobtrusive and secure way to store, access and protect their data. KOM is enabling enterprises large and small a cost effective way to improve productivity and meet compliance requirements without altering their network infrastructure or daily business routines. The industry pioneer holds vital industry patents for electronic file lifecycle management, virtual file management and eWORM fixed content hard disk archiving. Find out how KOM Software can help you implement a comprehensive information lifecycle solution to optimize your existing storage environment and meet your compliance requirements.
All trademarks and registered trademarks are property of their respective owners.