KOMunity Technology Partner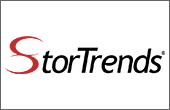 AmZetta Technologies Inc. StorTrends
AmZetta Technologies was established in April 2019 as a spinoff from American Megatrends (better known as AMI). AmZetta is focused on hardware and software technologies in the Healthcare, IoT, Networking, Storage, Telco and VDI markets for the IT data center. Headquartered in Norcross, Georgia, AmZetta has locations in the U.S.A., India and Taiwan to better serve our customers. The AmZetta team has an average of 22 years of experience in leading technologies such as BIOS, Drivers, Firmware, Linux, Networking, RAID, Remote Management, Storage, VDI and Virtualization.
Overview
KOMpliance Storage Gateway plus StorTrends SAN provides a fully compliant storage solution by combining the flexibility and scalability of virtualized StorTrends iSCSI SAN technology with the uncompromising data security and integrity of WORM encrypted storage volumes. Platform and application agnostic technology lets businesses maximize their investment in technology and leverage administrative knowledge without changing business processes. Enterprises can thus enjoy the benefits of secure tamper-proof archive storage in an intelligent, enterprise-class solution that is easy to install, manage and grow.
Business Value
Customers already using StorTrends SANs for primary storage of their files and applications can increase the protection of their digital assets by transforming the SAN disk arrays into non-rewritable, non-erasable, tamperproof storage media with KOMpliance's patented eWORM retention, encrypted protection of data-at-rest, secure data shredding, and a host of other features. KOMpliance keeps data on StorTrends SANs private and protected from alteration or deletion. Whether deployed to set policies for continuous data protection, long-term retention or archiving; or to implement compliance, business intelligence or disaster recovery strategies, the KOMpliance Storage Gateway is a cost-effective solution that doesn't sacrifice flexibility or lock enterprises into proprietary solutions. Jointly implemented with StorTrends SAN technology, it offers businesses a faster, less capital intensive route to building a long-term and sustainable storage solution for managing, securing and protecting digital assets.
For more information, visit www.stortrends.com